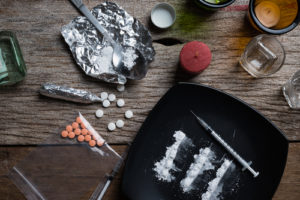 While possession of drug paraphernalia is not considered among the most serious of crimes outlined in the New Jersey Code of Criminal Justice, it does still carry jail time and a fine if a person is convicted of it. Graded as a disorderly persons offense, being convicted of the crime of possession of drug paraphernalia as defined by N.J.S.A. 2C:36-2, may subject a defendant to a maximum statutory penalty of $1,000 and a 6-month sentence in county jail. Because even one day in jail is a sentence that is too long, it is important that those arrested and charged with the crime of drug paraphernalia understand the elements of the crime and how to defend themselves against this charge.
Elements of the Crime of Possession of Drug Paraphernalia
The statute that defines the crime of drug paraphernalia, N.J.S.A.2C:36-2, reads, in pertinent part, as follows: "It shall be unlawful for any person to use, or to possess with intent to use, drug paraphernalia to plant, propagate, cultivate, grow, harvest, manufacture, compound, convert, produce, process, prepare, test, analyze, pack, repack, store, contain, conceal, ingest, inhale, or otherwise introduce into the human body a controlled dangerous substance, controlled substance analog or toxic chemical in violation of the provisions of chapter 35 of this title." While the statute itself does not define the term "drug paraphernalia," it provides important information about what the prosecutor has to prove in order to convict someone of this crime. Specifically, it requires the prosecutor to prove that: (1) the person actually possessed an item; and (2) the specific intent of that person in possessing said item was to use it to make, consume, or prepare for the sale of drugs.
Defending Against a Charge of Possession of Drug Paraphernalia
Given the circumstances surrounding a particular case, it may be easy for the prosecution to prove these two elements of the crime. For example, if a defendant is observed using or holding the item when police arrest him or her for possession of drug paraphernalia, it is hard to dispute that the defendant actually possessed the item in question. Moreover, if the item is filled with drugs at the time the defendant is arrested, it is equally as hard to dispute that the defendant was not using the item for drug-related purposes.
However, in other situations, defendants may have viable defenses if arrested and charged with the possession of drug paraphernalia. For example, if police arrest a defendant for this crime and the defendant is not holding the item described as drug paraphernalia, then a defendant can argue that they do not own the item and that they did not possess the item. This type of defense is most successful if the item is found in a different geographical location from where the defendant was arrested or when there are multiple people surrounding the one item who could also be considered the possessor of the item. Again, this defense is not always successful given that prosecutors can argue that the defendant, while not in physical possession of the item, was in constructive possession of it. Moreover, defendants charged with possession of drug paraphernalia can also pursue the defense that they possessed the item in question for some lawful purpose, and not for a drug-related purpose. This defense may be successful if there is no drug residue in the item.
Contact an Experienced Hamilton Drug Defense Attorney About Your Possession of Drug Paraphernalia Charges in New Jersey
Have you been charged with a drug-related offense in New Jersey? A drug crime conviction can carry with it heavy fines, jail time, and driver's license suspension! That is why it is imperative that you speak with a qualified criminal defense lawyer about your case. Lauren E. Scardella, Esquire of the Law Offices of Lauren E. Scardella represents clients charged with use, possession, production, distribution, and related drug offenses in Hamilton, Camden, Trenton, and throughout New Jersey. Call 609-372-5285 or fill out our confidential online form to schedule a free consultation about your case. We have an office located at 2653 Nottingham Way, Ste 1, Hamilton, NJ 08619.
The articles on this blog are for informative purposes only and are no substitute for legal advice or an attorney-client relationship. If you are seeking legal advice, please contact our law firm directly.